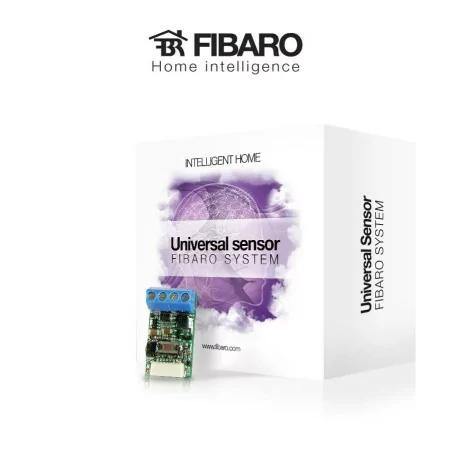  
Fibaro Universal Binary Sensor
Description:
FIBARO Universal Binary Sensor is a wireless module that enables any sensor to extend the functionality of the binary output of the ability to communicate with the wireless Z-Wave and building intelligence system FIBARO. In addition, the module enables wireless communication system with temperature sensors DS18B20.
Technical data:
• Power supply 9 -30 V DC ± 10% 
• Inputs: 2 potential free inputs, 1 digital input 1-wire 
• Outputs: 2 potential-free output 
• Maximum output current capacity: 150mA 
• Maximum voltage at the terminals of output: 36V DC / 24V AC ± 5% 
• Operating Temperature: 0 - 40 ° C 
• Number of supported temperature sensors: 4 
• Measuring range: -55o C to + 126o C 
• Radio protocol: Z-Wave 
• Range up to 30 m in buildings (depending on building materials, layout and building construction and terrain), up to 50 m in the open, 
• dimensions (length x width x height): 14.5 x 27.3 x 12 mm
8 other products in the same category:
No customer reviews for the moment.